11 Jul 2017
5 Hidden Android Accessibility Settings You Should Be Using
When it comes to powerful customization and unlimited tweaking options, the Android operating system stands second to none. If you are an Android fanatic, you probably have swept your way through all the sleek themes and launchers there are, but have you ever looked into the Android accessibility settings.
The accessibility options have been developed in the latest Android phones as well as the old ones for the vision and hearing impaired, you can make use of them as well. Here's a list of five hidden Android accessibility settings you should be using, but probably aren't.
Text-to-Speech
There is a good chance that you use this Android accessibility option already as it is quite popular. To get started with this versatile feature, just enable the Google Text-to-Speech engine and download the language packs that you need.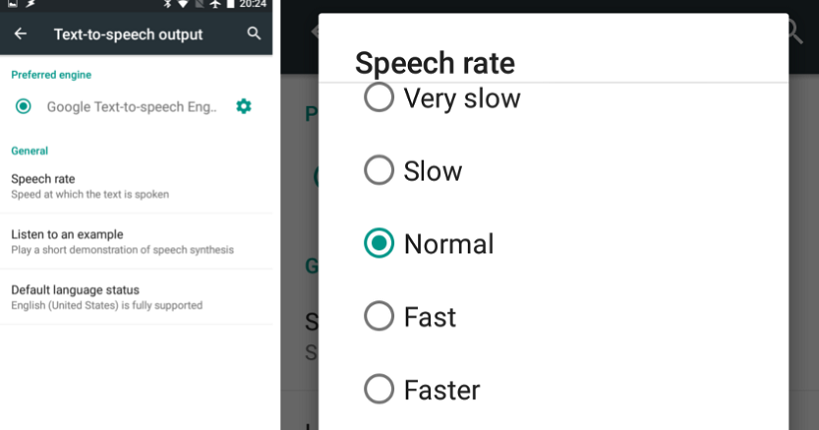 Text-to-speech will basically make your mobile a voice operated the device, which is a boon for those of us who always have their hands busy while working. If you love reading the daily newspaper but have no time for it, just let text-to-Speech narrate it to you.
Magnification Gestures
If you could zoom into the entire screen of your Android phone just like you do on images, wouldn't that be fun? Well, that is exactly what the Magnification Gestures of the accessibility settings is for.

With this neat little option, you can zoom into the entire system with just a triple tap gesture for zooming in and the same for zooming out as well. When you triple tap the screen and hold, you can pan around with your magnified screen, which looks pretty cool.
Explore By Touch/TalkBack
If you have bad eyesight and always have a problem going through your phone without your glasses, you will absolutely love TalkBack. By enabling this accessibility feature you can have a virtual voice speak out whatever options you select or tap on the screen of your phone.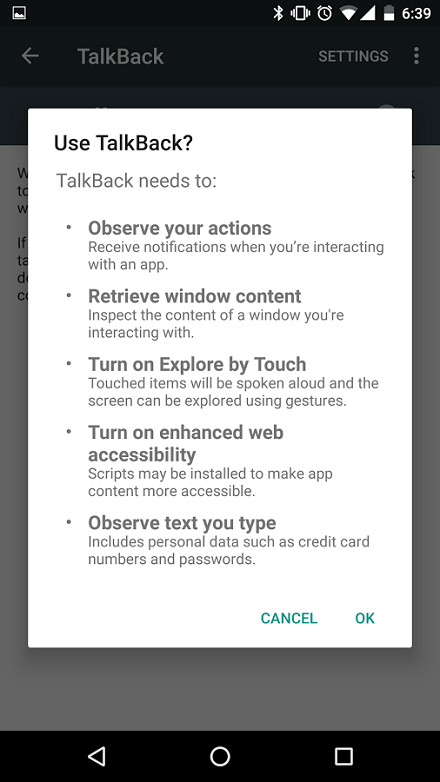 You can also use this feature to make-do with your phone that has a broken screen, as long as the touchscreen works. Explore by Touch is similar to TalkBack, and these settings come with a wide range of useful features that could be quite useful to you.
Invert Colors/Negative Colors/Color Adjustment
While most of us love the dark vibe that the Android OS gives off, some of us are into the lighter shades. With the Invert colors options in the Accessibility Settings of the LG G3, you can enjoy different crazy color combinations.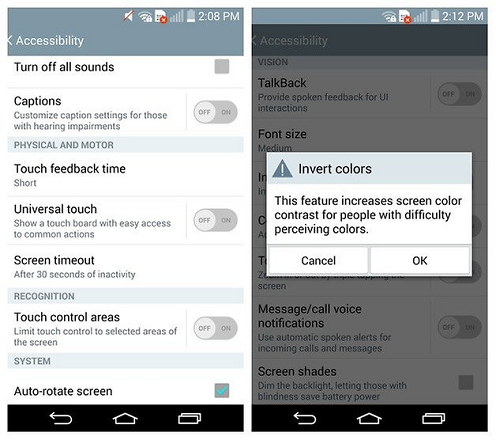 Your Samsung phone also has this feature under the Negative Colors option, so enable it and enjoy a funky looking TouchWiz interface and make your phone stand apart from the others. You can adjust the color of the content on your screen with the accessibility options on the LG, Samsung and almost any other Android smartphone.
Interaction Control
This accessibility feature in Samsung Android phones can be accessed through the accessibility settings or by pressing the Volume Down and Home button. This feature allows you to turn off the stock motion gestures such as picking up calls and taking screenshots, along with turning the screen timeout on or off.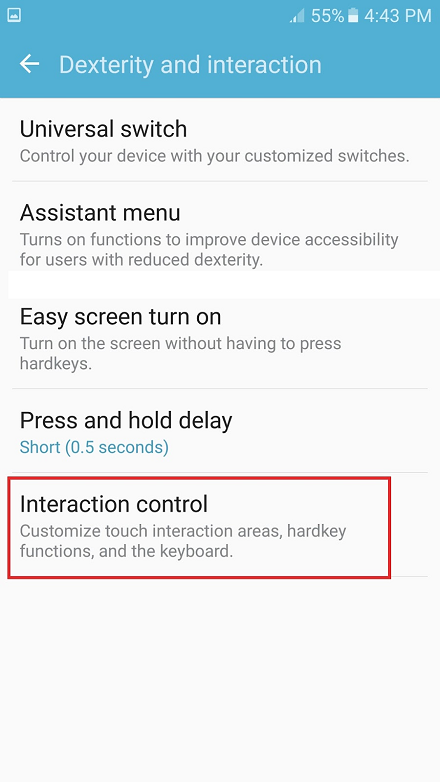 But the craziest feature of the interaction control is that it allows you to block touch response on a specific part of the screen, such as the area of the status bar, the notification shade, and others. This feature is also available on OEM Android devices like the LG G3 as Touch Control Areas.
Even if you don't find much of worth in these 5 Android accessibility setting options, there are loads more you can explore. So navigate to the Accessibility Option on your Android smartphone right away and open it up to a whole new world of useful tweaks and customizations.