12 Nov 2016
How to Download Clash of Clans APK on Android
Do you need to download Clash of Clans APK on your Android device or PC right now? Here is the simplest and most versatile guide on the subject you can find online.
Clash of Clans has been around for the past 5 years or more with us. It doing great in every aspect. From little kids to elderly people are having fun while playing this game. It's a pretty fun game if you want to kill some time but there is only one requirement and that is an active internet connection every time you play it.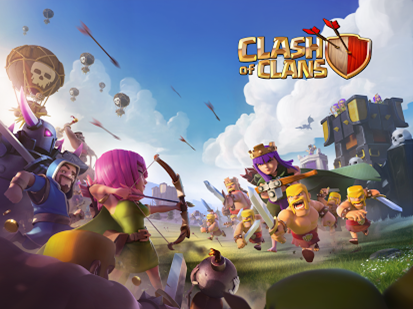 "From rage-filled Barbarians with glorious moustaches to pyromaniac wizards, raise your own army and lead your clan to victory! Build your village to fend off raiders, battle against millions of players worldwide, and forge a powerful clan with others to destroy enemy clans"
Clash of Clans is free to download and play, however, some game items can be purchased for real money. This is a good for all those people out there who don't care to get some buck out to WIN. And also you must be at least 13 years old to play this game.
How to Download Clash of Clans APK
One can play Clash of Clans on his or her Android smartphone or on the PC with the help of APK file. Here we are going to help you download Clash of Clans APK for any of your devices. However, you will have to download an Android Emulator like BlueStacks if you wish to play Clash of Clans on your PC or Smartphone.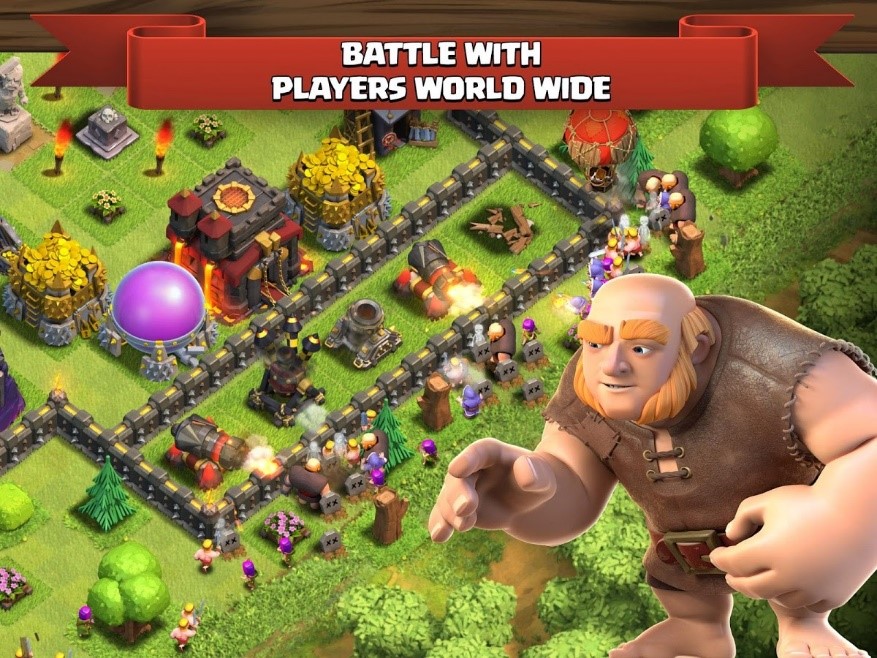 Download Clash of Clans APK On PC
Step 1: You need to get the APK file in order to play the game. You can download it from here.
Step 2: Click on the latest Update of Clash of Clans from the list on the site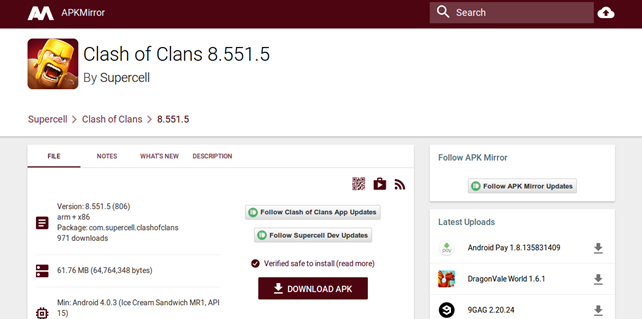 Step 3: When you have selected it, just click on and it will redirect to its page
Step 4: Now just click on "Download APK" button and the download will initiate.
Step 5: Hit the OK  or Save button to download the APK on your device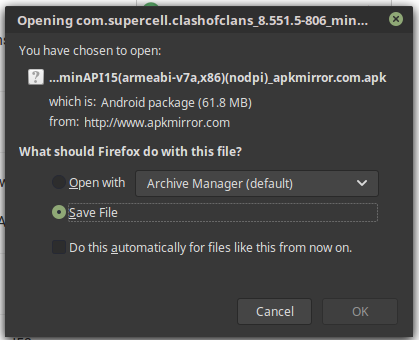 Step 6: Then transfer the downloaded APK file on Android device to install it. You can also use BlueStacks if you wish to use on your PC.
Download Clash of Clans APK On Smartphone
Step 1: Open the Google Play Store app on your phone.
Step 2: Type COC or Clash of Clans at the top Search Box and press Enter.
Step 3: You will be able to see the game on the top of the result. Click on it.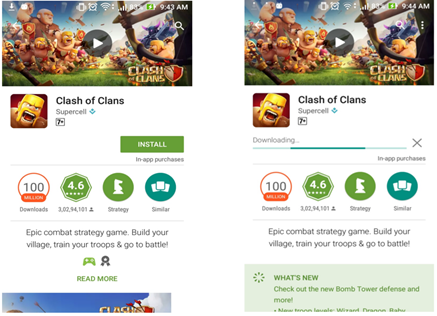 Step 4: In the new "Clash of Clans by Supercell" page, tap on Install.
Step 5: The app will begin downloading and will install after it is complete.
This was how you can download Clash of Clans APK. After you have downloaded the game just enable Unknown Sources inside the settings then continue with the installation of the game. When the installing is done, it will boot up like a normal game and you can enjoy it either but creating a new account or signing in with your Google account.
You can also go ahead and check out the video tutorial given below to learn how to download Clash of Clans APK to your device.