01 Oct 2016
How to Download Games on Nabi
Do you want to get more out of your kid's tablet and want to learn how to download games on Nabi? You've come to the right place. Due to heavy modernization and advancement in technology, kids start using
Due to heavy modernization and advancement in technology, kids start using cell phones and tablets at a very early age nowadays. And by the time you realize that you have been doing wrong, they are already addicted to these smart devices and making them forget them is a very hard task.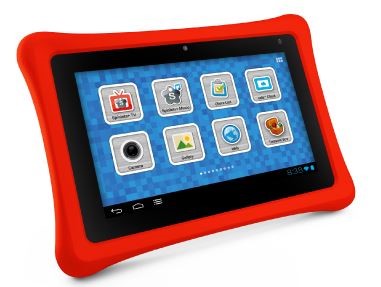 This is the reason why a tablet named Nabi was introduced with a large protective case as well as along with some child-friendly applications. The Nabi was made available in the market for $200 and was more than just a toy for kids. The tablet packed a dual-core processor clocked at 533 MHz which was assisted by 512 MB RAM as well as 4 GB internal storage. It also featured a 1.3-megapixel front-facing camera and a microSD card slot for expanding storage.
Here's More: How To Root Innjoo F2 Tablet Easily 
Nabi tablets for children are very kid-friendly as well as durable and also contains a lot of kid friendly games. In addition to that, they have also been working hard on upgrading the App zone as well.
How to Download Games on Nabi?
However, the first thing that might come to your mind after spending few days with it is to how to download games on Nabi tablet. You might think that it is easy since the tablet runs on Android operating system. But, when you will open it, you will find that there is no Google Play Store in it. And that simply means that you cannot download any games without it.
Also in case you want to download any other game son your Nabi, you either need your parent's permission or need to root your Nabi tablet. We can't say much about your parents, but here we are going to tell you how you can root and how to download games on Nabi. All you need to do is follow the steps given below in order to do so:
Pre-requisites
Before we begin the rooting process, make sure that you have at least 50% battery on your device. It is very important so that you Nabi tablet does not turn off during the rooting process.
In addition to that also make sure to take backup of your SD card data before beginning. You also need to have at least 2 GB free memory or the process may halt in between.
Check this out: How To Minimize Data Usage On Android Phones And Tablets 
You must have OTA 1.9.23 installed on your Nabi before you begin the rooting. In case you don't have it, you can go to Settings -> About -> and then select Update. You Nabi tablet will be updated to latest OTA 1.9.23. Also, turn on the USB debugging option in Developer Options under settings.
Steps to Root and Download Games on Nabi
Step 1: Connect you Nabi to PC via USB.
Step 2: Now download the "jmzrootpackage" from here and then copy it to a folder in C drive. You can even copy the complete folder from here and paste it in your C drive.
Step 3: Open the Command Prompt on your PC with administrator rights in the same folder where you have copied the file downloaded above.
Step 4: Now in the command prompt window type: "install.bat".
Step 5: you will be able to see the image as shown below.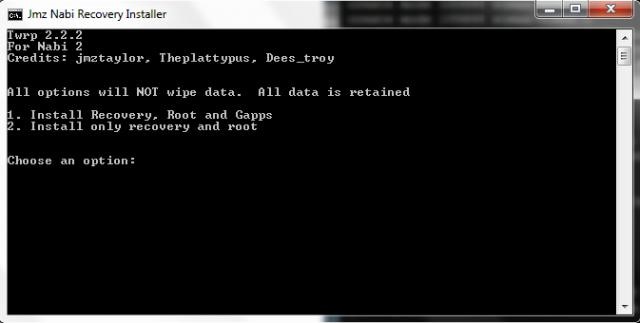 Step 6: Now you need to type '1' and press enter.
Step 7: now you need to wait for some time as the process completes. Soon you will see options on your Nabi screen. You will be able to navigate using Volume+ and Volume- side buttons. You have now successfully installed TWRP recovery on Nabi.
Step 8: Now again go back to the command prompt window on your PC screen and press any key on the keyboard to continue. This will install all the Gapps on your Nabi.
Check this out: Simple Tips To Make Your Android Tablet Faster 
Now your device will reboot and might take several minutes to start. You need to be patient while it starts up. When the TWRP is reloaded, you need to press any key again as per the instructions.
As you press any key, you will land back to the main menu. This means that the process is complete. Now in TWRP locate "gapps.zip" and then press the lock button on it to install it. Your device will be updated with gapps. This might take several minutes as well. That is all. After it is complete, you just need to choose "Reboot System" option to restart your Nabi.
After your Nabi has restarted, you will be able to find Gapps and Play Store on the menu from where you can now download all the games. This is how to download games on Nabi. I hope you like the post. Stay tuned with us for more tech updates similar to this. Be sure to check out the video tutorial below if you need more assistance with the tutorial.