01 Jun 2016
Step by step guide on how to backup QuickBooks online
Whether you provide professional payroll and accounting services or just handle the financial end of your own business, QuickBooks are the easiest and most dependable tool. The age-old problem with all data is that it can easily be corrupted or lost, whether caused by a bad hard drive sector or just human error. Knowing how to backup QuickBooks online is essential these days since a local backup is just not secure enough.
If you're worried about losing your valuable QuickBooks data, the best practice is to create deep backups, which can be recovered even if a recent backup gets corrupted. Fortunately, there are multiple ways to backup QuickBooks online. With the help of this simple guide, you can learn how to backup QuickBooks online, without breaking a sweat.
Method 1 (Paid): QuickBooks Online Backup by Intuit Data Protect
Since real-time QuickBooks backup is a major concern for many users, Intuit (the company behind QuickBooks) has created the best online backup solution. Intuit Data Protect provides scheduled backups of your QuickBooks with high standard encryption for security.
Related Post: Best Ways To Backup Your Android Contacts And SMS Easily
Intuit Data Protect also maintains a 45-day history for you to retrieve any or all of your data that you may have lost locally. Since the service is provided by the creator of QuickBooks, its direct integration with QuickBooks makes it simple and quick.
The Online QuickBooks backup service is available for $9.95 a month, but you can try it out free for 30 days right away.
Step 1: Visit the website and apply for a trial
To begin the 30-day trial period, simply visit the website and click the "Get it Free for 30 Days" button. The next page will ask you to select the Pricing plan that best fits your requirements.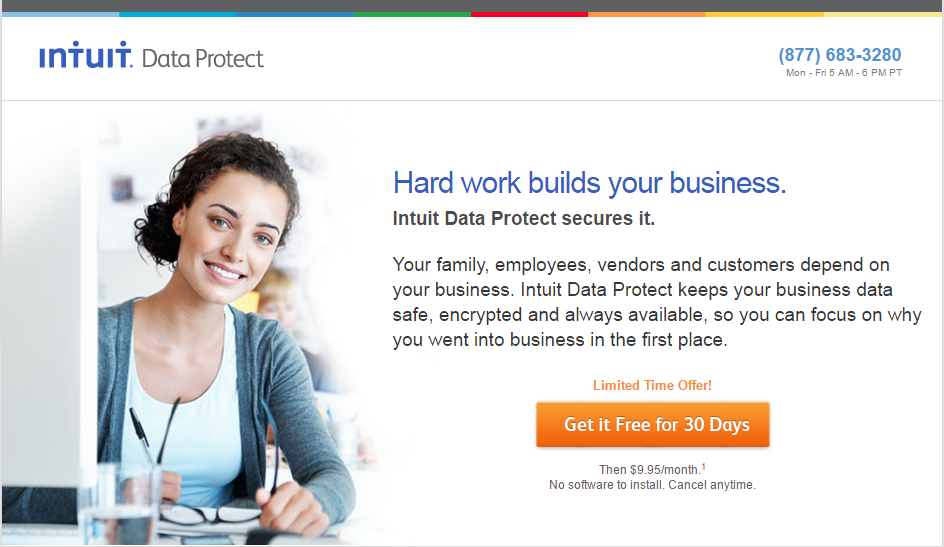 Step 2: Enter account registration information and payment details
The page will ask you all the details such as first/last name, email address, service plan, password, and more. The page will also ask you for billing and payment information. After the 30-day trial period, the software will automatically charge you based on the plan you have selected. If you want to avoid paying the charges after the trial period ends, be sure to contact their customer support.
Step 3: Download and Set up QuickBooks Online Backup Software
Download the add-on software for QuickBooks once you have signed up for the trial and install it on your computer system. Enter your Account ID and password when the screen prompts you to, and then wait for the application to launch.
Step 4: Select the files you want to backup
Depending on the plan you select, you would want to reserve the available backup space only for the files that cannot be replaced. When selecting files from the directory tree, these are some of the file types you should keep in mind:
Operating System files such as ones that end in DLL, SYS, CPL, or VXD
Temporary files such as ones that end in TMP
Application or Program files such as ones that end in EXE, INI, HLP, DAT or ISU
Scan Disk Error files such as files ending in LOG
You might also like: 5 Best Free Antivirus For MAC Computers
Step 5: Schedule your QuickBooks online backups
The add-on software not only backups all your selected QuickBooks data, but also gives you the option schedule a backup period. Navigate to the Scheduler icon in the upper toolbar of the application and select the days and times that suit you best. Remember to click on the "Save" button at the bottom of the window to confirm your online backup schedule.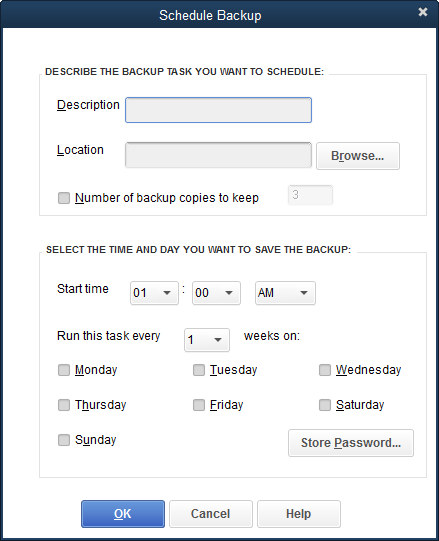 Method 2 (Free/Paid): Use Third-Party Cloud data storage services
The best thing about QuickBooks is that they don't take up too much of space. So you can even use free cloud storage services like Google Drive and Dropbox to backup QuickBooks online. Of course, these third-party backup solutions are not as convenient as the one provided by Intuit.
Moreover, you cannot create "deep backups" with these solutions, so there always the risk of losing your QuickBooks data to a corrupted backup. To help you understand how to backup QuickBooks online with third-party services, here is an example of how you can use Google Drive to do so.
Step 1: Download and set up Google Drive utility app
Download the Google Drive add-on for Windows and Mac from here. Install the app and sign in with your Google account to set it up on your system. The various setup screens will follow and then click on "Done" to create your local Google Drive folder on your computer.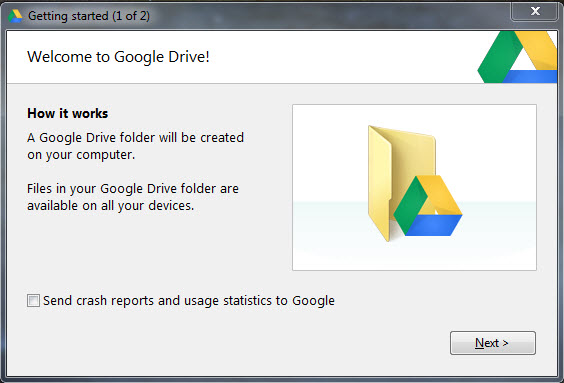 Step 2: Backup all your QuickBooks files to the Google Drive folder
Once you have set up Google Drive on your computer, you will be able to a Google Drive folder named after your profile in the file explorer. Search for all the QuickBooks data files on your computer (.qbw) and copy them to the Google Drive folder.
Read this also: How To Download WhatsApp For PC
Step 3: Restore data from QuickBooks
Once you have created the backup in your local Google Drive, access File-> Open or Restore and navigate to the location of the QuickBooks data saved in the Google Drive folder. Now you can continue working on QuickBooks and rest assured that your data is safe on the Google servers.
If you aren't sure how to backup your QuickBooks online with Google Drive, here is a video tutorial that shows you how to backup your computer with Google Drive:
No Responses