10 Jun 2016
How to Fix Error 577 : Windows Defender Error
Windows 8 and Windows 8.1 users are frequently riddled with errors, and the Error 577 related to Windows Defender has been a common and recurring one. Some Windows 10 have also experienced this issue and requested for an Error 577 fix. If the Windows Defender on your computer won't start up due to the "Error: 577: Windows Could Not Start the Windows Defender Network Inspection Service" here are two simple methods on how to fix Error 577.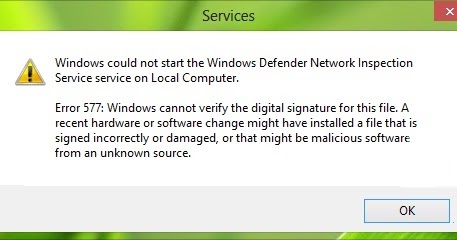 Common causes of Error 577
Installing or uninstalling a third-party security software or antivirus which has deleted or modified Windows Defender program files.
Corrupted Windows registry files due to recent software changed related to Windows Defender.
Any malicious software that has altered or deleted files related to the Windows Defender.
Upgrading from Windows 8 to Windows 8.1 can also shoot back Windows Defender error 577.
Method 1: Error 577 fix using Action Center
Step 1: Press Win + R to open the Run dialog box and type in "wscui.pl"
Related: Error 3194: Fix for Windows and Mac
Step 2: Click on the "Turn on now" buttons or the "Launch" buttons on the Action Center.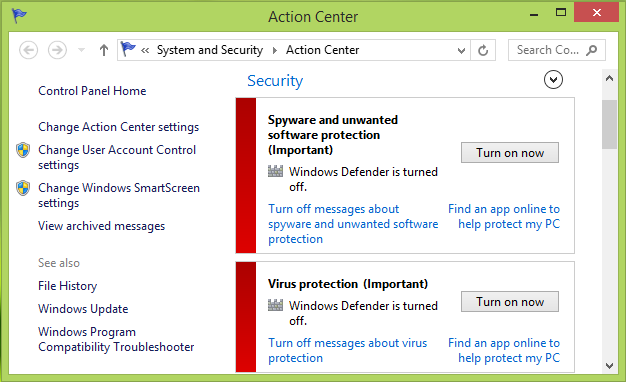 Depending on whether you have turned on the Windows Defender in the past or not, you will be able to see the "Turn on now" or the "Launch" button next to the protection features. Click on these buttons to enable Windows Defender and give you the simplest Error 577 fix.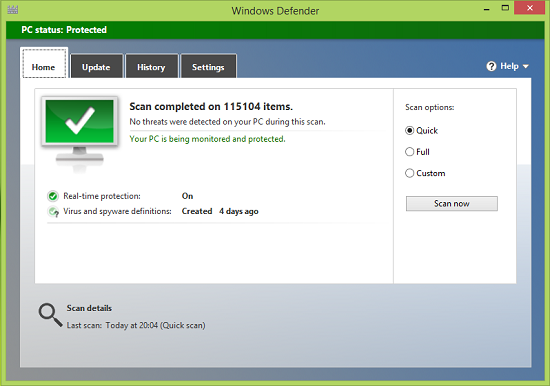 Once you have understood how to fix Error 577 for Windows Defender, it is always a good idea to run the program and scan your computer for any malicious software or files.
Method 2: Error 577 fix using Windows Registry Editor
Step 1: Press Win + R to open the Run dialog box and type in "regedit"
Step 2: Navigate to "HKEY_LOCAL_MACHINE\SOFTWARE\Microsoft\Windows Defender"

You might  also like this:  Tips For Maintaining Your Laptop Battery Life
Step 3: Download the RegOwnershipEx software
The RegOwnershipEx is a program developed by Sergey Tkachenko, which enables users to easily edit registry keys on Windows 8, 8.1 and 10. Simply download the RegOwnershipEx program from here and open it.
Step 4: Take ownership of the Windows Defender registry key
In order to access the Windows Defender key and modify it for a quick Error 577 fix, you must take ownership of it using RegOwnershipEx. Copy the path "HKEY_LOCAL_MACHINE\SOFTWARE\Microsoft\Windows Defender" and paste it in the dialog box in the RegOwnershipEx and click on "Take Ownership".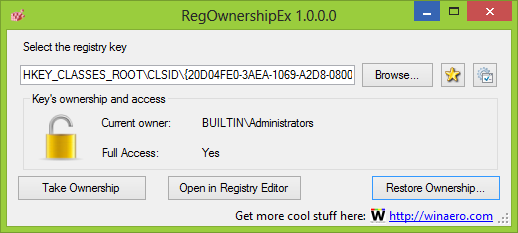 Step 5: Open the registries named DisableAntiSpyware and DisableAntiVirus
Browse through the list of registries within the Windows Defender key and select DisableAntiSpyware and DisableAntiVirus with type DWORD.  Double click on both the registries to open two new dialog boxes.

Step 6: Change the "Value data" of the two registries
Click on the Value data box space and change the value to 1 from 0 for the DisableAntiSpyware and DisableAntiVirus DWORDS. Click OK and close the Windows Registry Editor.
Read also: How To Create A Wireless Ad Hoc In Windows 8.1 Easily
Step 7: Navigate to "C:\Program Files\Windows Defender" and open "MSASCui.exe"
The execution file will make the Windows Defender run optimally on your computer, finally giving you the Error 577 fix you have been looking for.
The tutorial on how to fix Error 577 should help you get rid of the annoying window for good. Like always, we have an easy tutorial video on Error 577 fix right below: