24 May 2016
Android Alarm Clock Tutorial: Alarm Made Easy
For most us, waking up to the sound of a buzzing box alarm clock seems as ancient as the dial-up internet connection. Saving you space on your night, every single smartphone comes equipped with an alarm clock. If you aren't tech-savvy or have never owned an Android phone in your entire life, something as simple as using the android alarm clock can be tedious. To save you all the hassle and help you be the early bird that you are, here is a simplified android alarm clock tutorial for you to follow.
Note: One of the best things about Android is that whether you own a smartphone made by Samsung, HTC, Sony or any other brand, the basic working principles of all apps is the same. No matter what model or brand of android smartphone you own, this android alarm clock tutorial will work for you.
Step 1: Tap on the app drawer icon and look for an app called "Clock".
In most android phones, the alarm clock is not displayed as a separate app, but a part of the clock app which includes other mini apps such as a timer, world clock, and stopwatch.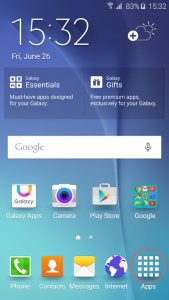 While the user interface and design of the alarm clock app may differ depending on the model and software version, the features are essentially the same.
You May Also Like: Simple Tips To Make Your Android Tablet Faster 
Step 2: Tap on the "+" Icon on the screen to create a new alarm
Once you press the new alarm button (+), there are a variety of options that you can select to customize your alarm.
Time –

Tapping on the timestamp of the new alarm will help you select the time you want the alarm to go off. If you own a Samsung android phone, the user interface of the alarm clock would be somewhat like this:
However, most of the android phones which come with a stock android operating system (no third party user interface), the time selector would look something like this: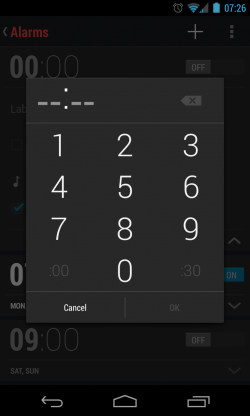 You May like this post: How To Add Multiple Google Accounts To Android Easily
Repeat –

The Repeat feature allows you to the set the alarm on your android phone on particular days of the week. You can either create an alarm for your weekdays for work or just set a one-time alarm time for the weekends to wake up early.
Check the box next to Repeat and simply select from the seven days of the week on which you want your alarm to ring.
Ringtone –

Your android alarm clock allows you to wake up to the melody of your choice, by selecting a ringtone to play during your alarm. You can simply select a stock ringtone from the list, or use an audio clip or a song from your music playlist as your custom ringtone.
Vibrate and Increasing Volume –

If you are a heavy sleep and need more than just a simple wake up notification, you can use the vibrate option for an extra nudge. The Increasing Volume option sets off the alarm with a quiet tone and gradually becomes louder to help you wake up to a pleasant morning.
Step 3: Using the Additional Alarm Settings
Android offers a few fancy alarm clock features apart from the ordinary ones in the additional settings. Tap on the three-dot menu icon on the screen to view the additional android alarm clock settings. This android alarm clock tutorial will give you a quick scoop of what you can do with these additional alarm clock settings.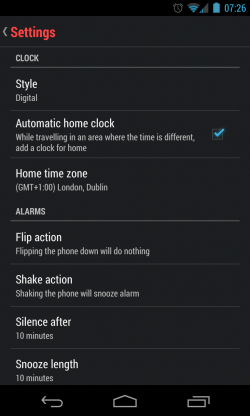 These additional settings come with options such as digital or analog style clock and automatic home clock to display your home time when you are abroad. Moreover, the options let you select Snooze length of the alarm, duration after which the alarm should automatically silence itself and special gesture actions.
Related: Things You Should Do First When You Get A New Android device
The gesture actions include Flip action and Shake action. You can select to either Snooze or Dismiss a ringing alarm by flipping it over or shaking it, or just set it to Do Nothing to deactivate gesture actions.
Step 4: Dismiss / Snooze Alarm When Ringing
Once you have set the alarm and the alarm goes off, you will have two options available on the home screen of your android phone. You can swipe the screen to the right and wake up, or swipe left to activate the snooze feature on the alarm for the number of minutes you have selected in the settings.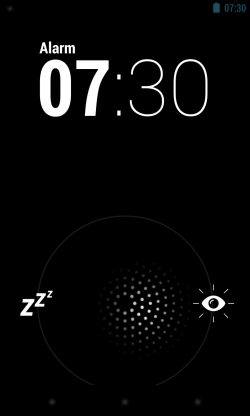 We hope this comprehensive android alarm clock tutorial was useful to you. If you need some more information on how to set an alarm on android or how to use your android phone as an alarm clock, check out the video tutorial below.