02 Feb 2016
Mailchimp vs Emma vs Vertical Response: Email Marketing Battle off
Email marketing solutions have radically transformed how businesses prospect and how they market their products and services. Several enterprise email solutions exist each with respective strengths as well as weaknesses. In this mailchimp vs emma mailchimp vs vertical response comparison, we guide you through the features, pros, and cons of these 3 marketing tools.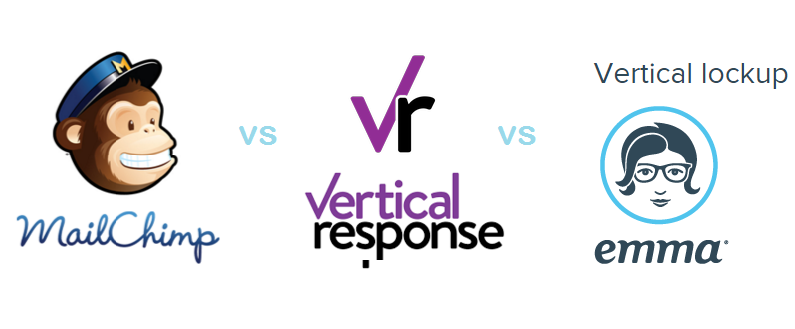 MailChimp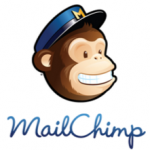 Frankly, MailChimp really needs no introduction. Solidly built, it's one of the top email marketing solutions that commands the respect of many people and organization. MailChimp is great for designing newsletters and sales/promotional emails. It's easy to use and comes with variety of responsive templates. What really stands out about Mailchimp it's extensive knowledge base that covers every conceivable aspect of email marketing.
The platform allows users to create lists, slice, and segment their audience. Users can integrate their emails with CRM applications. MailChimp has a great knowledge base and offers exemplary customer service.
MailChimp Pros and Cons
Pros
Cons
✓  Customizable email templates

✓  Easy to use WSYISWG editor

✓  Standard feature available

✓  Supports CRM/CMS/Social Media API

✓  Simple List Management

✓  Create and share reports

✓  Free up to 2000 contacts

✓  A/B Testing of emails

✓  High deliverability

×       No automated emails for free plans

×       Plans can get pricey

×       Phone support not dependable

×       User-interface can get clunky
Vertical Response

Vertical Response is of the leading email newsletters solutions in the market. The platform provides you with tools you need to create and manage a successful marketing campaign. Its plans are flexible and come with all the standard features. The dashboard is pretty simple while templates are customizable and responsive. Whether you want to create emails for existing customers or send welcome messages to new subscribers, Emma will sufficiently cater for all your email marketing needs.
Vertical Response Pros and Cons
Pros
Cons
✓  Easy contact and list management,

✓  CRM and Social Media APIs supported

✓  Easily customizable templates

✓  List segmentation and targeting

✓  Easy tracking and reporting

✓  A/B Testing of emails

✓  High deliverability

×       Builder has limited functionality

×       No surveys

×       No spam checking tools

×       Little written documentation
Emma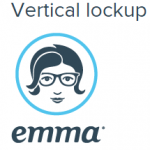 Like the previous two, Emma is a respectable email marketing service with over 40,000 customers and still growing. Emma platform comes with standard email features (list management, automation, and reporting), easy to use interface, and supports API integration.
While templates are few, the available are responsive and gives user the flexibility they need to create newsletters and promotional emails.  With Emma, you can create and automate daily, weekly, and weekly campaigns with ease.
Emma Pros and Cons
Pros
Cons
✓  Easy drag and drop interface

✓  Customizable email templates

✓  Standard reporting tools

✓  Solid Analytics and CRM Integration

✓  Simple List Management

✓  Free up to 1000 contacts

✓  Mobile apps for iPhone

×       Free trial for 14 days not 30 days

×       Slightly expensive than others

×       Fewer templates

×       Copy-paste of contacts not supported

×       No weekend support 
MailChimp vs Emma vs Vertical Response – Key Features:
Email Design
One of the best things about using email marketing softwares is that you can easily design and deploy your emails. All three marketing solutions come with drag and drop email design interface that lets you create newsletters quickly. You can drag and drop pics, content blocks, and arrange words and images just was you want them.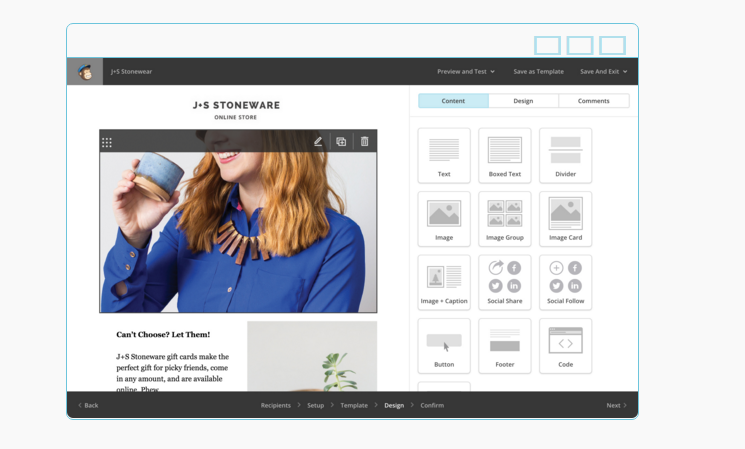 Similarly, you can adjust content layout and reorder content blocks. Once you create your newsletters, you can test and preview them on your mobile device to see how it's going to look before you send them.
Templates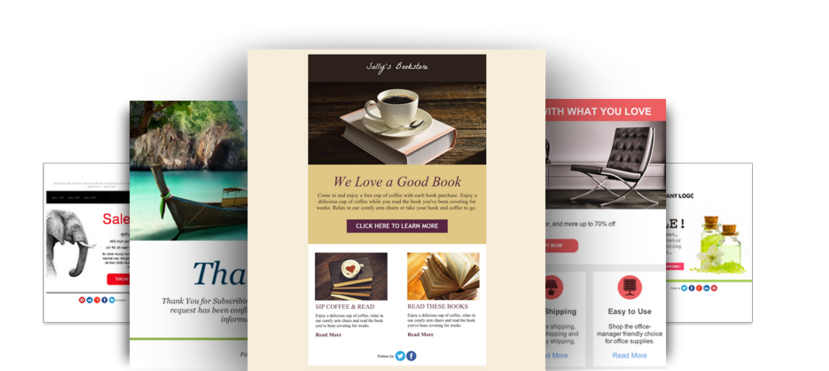 Mail Chimp boasts of a repository of 4oo+ templates to choose.  The platform comes with a drag and drop interface that makes it easy to create email layouts. Templates are designed and optimized for mobile devices.  You also have to code or import your email templates directly (with HTML and CSS inline). Whether you're a novice, an ace designer, or somewhere in between, the platform has a template that will meet your needs.
Vertical response comes with considerable number of templates as well. Most of their templates are responsive and mobile-friendly meaning they adapt beautifully to the reader's screen. Simply pick one template, add you content, tweak it and then send out your email. Your newsletters or sales emails will look great whether they are being read on tablet, android device, or tablet.
On the other hand, Emma boasts of a collection of 40 email templates. For a fee, you can also request custom email design services. Most email templates are editable via drag and drop email editor just like MailChimp. While the platform has fewer templates, the available designs are superior to other email templates in the market.
Related: LeadPages vs Unbounce – Which one should you choose
Autoresponders
One of the joys of email marketing is the ability to send automated messages to clients and prospects. Fortunately, all three marketing platforms support creation and management of autoresponders. MailChimp gives you the flexibility and power of enterprise-level automation. You can create email responses to new clients or surprise members with discounts and coupons in response to their shopping behavior.
Just like Mail Chimp, Vertical Response comes with an autoresponder feature.  With the autoresponder, you can deliver welcome messages to new subscribers, thank new leads, offer discounts to existing subscribers. What's more, you can create different responses for different lists. The feature is available for under all paid plans and is limited in the free plan.
Emma, just like its foregoing counterparts, offers supports automation of email responses.  The autoresponder system gives you the flexibility grow your list via sign-ups. With Emma, you can create autoresponders for new subscribers, thank you note for leads, and discount offers to existing members.
Reporting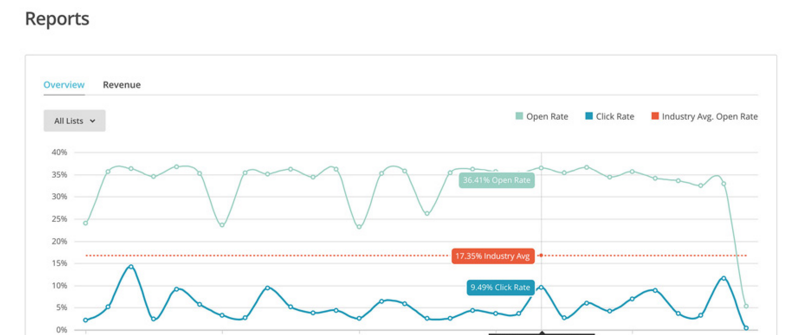 Knowing how your email campaigns are performing is key to the success of any marketing campaign. Vertical Response supports tracking and reporting of email activity. Users can generate easy-to-read reports on the emails sent, opened, and clicked.
Similarly, MailChimp comes with advanced reporting features that lets users monitor website activity and email response. You can track how many emails were delivered, opened, and what percentage was clicked. You can also monitor trends and bounce rates for marketing campaigns.  Essentially, the reports give you valuable information that will help you fine tune your email campaign.
Following-up campaigns and reporting in Emma is a breeze. You can analyze data and present results in excel or integrate with Google Analytics and use it to generate reports. Users can access an easy-to-read chart that lets them see trends and performance as a whole. With Emma, you get standard reporting tools that make it easy to track campaign and see clearly what's working and what's not.
Mobile App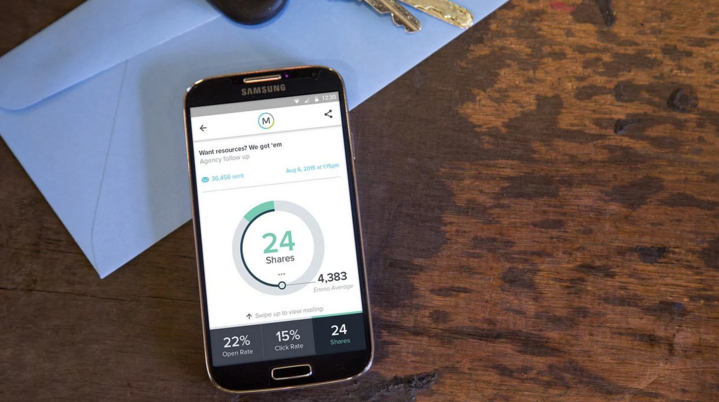 More than 70% of consumers use their mobile phones to shop and transact. Having emails optimized for mobile viewing will give you a competitive edge when marketing your products. MailChimp has a mobile app that allows you to create and manage your lists on the go. With a few taps, you can add new subscribers, send blast emails and even check email reports.  Better still you can create an email campaign on your PC and send it directly from your android device or iPhone.
Emma offers a free mobile app known as Metric. The app is available for Android devices as well as iPhone. With the app, you can organize and send campaigns, receive notifications on your campaigns in real-time, report results, and share with your marketing team.
Vertical Response mobile app allows small businesses to easily create, schedule, and manage their email campaigns conveniently from a central point. The app comes with all the key features that's available on the PC. With the app, you can send out emails, obtain analytics on impressions and clicks, and generate reports. Essentially, the app is designed to complement the Vertical Response social media marketing kit.
Related: Wix vs Godaddy – website builders making a statement
API Integration

All 3 email platforms support CRM, CMS, and Social Media API integration. MailChimp allows users to integrate Salesforce, Shopify, FreshBooks, SurveyMonkey as well as many other apps and services. That means you can sync data from any of these 3rd party tools, import content, and discover how your sales campaigns are affecting your business.
Similarly, Vertical Response lets you integrate 3rd party software and tools via API integration. You can integrate Vertical Response with SugarCRM, Survey Monkey, Shopify, SalesForce, and over 15 other softwares that help you run your business.  The best part I that you can sync across apps without touching any line of code.
On the other hand, Emma integrates with ZohoCRM, Salesforce, Front Desk, High Rise, Google Analytics, and Facebook API.  This makes it easy to manage your subscriptions and leads. Setting up CMS and Social Media integration is easy. Once you do that, you will be able to access user data and have a clear picture of how your marketing campaign is performing.
Pricing
Let's face it, pricing is one the definitive factors when shopping for email solutions. MailChimp offers four pricing plans: starting up, growing business, pro marketer, and high volume sender. The plans gets pricey as the lists grow. You can sign up for monthly plans or choose pay as you go. Cost of monthly plans change automatically as you gain or lose subscribers.  If you would like to test waters, you can start with the basic FREE package.
Vertical Response plans are flexible and based on subscription pricing.  There are 4 pricing plans; Free, Basic, Pro, and High Volume. Free is recommended for explorers and anyone who has upto 1,000 contacts. The basic plan costs $22/month and allows users to send unlimited emails.  For just $32month, you can sign up for the Pro plan which gives you access to custom branded emails and dedicated support. And if you have a large list, you can sign up for the High Volume Plan which comes with incredibly powerful features and scalable infrastructure.
Emma offers pay for subscriptions plans for businesses and organizations. A subscription list of upto 2,500 contacts costs $49/month while 5,000 contacts costs $69/month. If your contact list has upto 50,000 subscribers, you will charged $259/month. For lists with over 75,000 contacts, you will need to ask for a quote to be customized.
No Responses