15 Jan 2016
Leadpages vs Unbounce: Landing Page Software Battle Off!
Let's face it. Leadpages and Unbounce are undoubtedly the two biggest players in the landing page arena. Over the years, they have grown in popularity. Each has its fair share of ardent users and critics.  In our lead pages vs unbounce analysis, we are going to look at the pros and cons, as well as the outstanding features of each platform.
Overview:
Unbounce
Unbounce is a market leader in the landing page design arena. While other tools only allow you to test pages, Unbounce lets you create, deploy, and measure conversion on each page. You can use it to design a mobile-friendly landing page on just about any niche of industry.
The platform features a simple drag and drop builder and element-rich interface that comes with everything you need to create a high-converting landing page.
Whether you are an in-house marketer or a small business owner looking forward to increasing lead generation, Unbounce gives you the flexibility and power to deploy high-converting landing pages.
Leadpages
Leadpages is one of the highly reputed landing page design tools on the market today. Just like Unbounce, this builder allow users to create and A/B test sales pages, Option pages, and conversion pages quickly.
Leadpages comes with a simple drag and drop interface and supports integration of marketing automation tools. Using Leadpages, you can setup your landing pages and measure conversion of any page.
You don't need to know HTML code to use it. If you have used a web design builder before, you can use use Unbounce or Leadpages to create and deploy landing pages within minutes
     Unbounce or lead pages? The Good and the Bad

LeadPages

Pros

✓  Pricing plans comes with Free trial

✓  Simple drag and drop interface

✓  Supports marketing automation

✓  Advanced functionality

✓  Superior A/B Testing system

✓  Tons of Integration

 

 Unbounce

Pros

✓  Easy to Use

✓  Creates Optin/Sales/webinar pages

✓  CRM and Email Marketing Add-ons

✓  Multiple templates

✓  Test to Convert

 

Cons

×     Only covers landing pages

×     Quite pricey

×     Limited ownership
 

Cons

×       Limited design control

×       Basic functionality

×       No free trial
Design
You don't have to be technically gifted to build and deploy a landing page. Unbounce and Leadpages both come with simple drag and drop interfaces that allow you to create and position elements wherever you want in the landing page.
Unbounce is loaded with advanced landing page design features that allows you to create parallax scrolling and embed background images to landing pages. Using both, you can add page elements or remove them any time you want. The best part is that you can add multiple users and set permissions for managing or updating the pages.
Templates:

Leadpages and Unbounce have a great selection of templates between them. Leadpages boasts of over 50 mobile-friendly templates while Unbounce has more than 80 templates. There's a variety of templates for mailing lists, webinar signup, and ebook downloads to choose from. Unlike others, templates for Leadpages and Unbounce are designed based on conversion rates achieved previously.
Before you buy any template, you can sort them out according to the best conversion rates.  You can sort templates by industry; agency, health, consulting, restaurant, travel, and ecommerce. No matter what kind of landing page you want to set up, you will have the confidence that your choice of template will generate good results.
Lead Generation Tools                   
One of the best things we can say in our leadpages vs/or/and Unbounce comparison is that both builders allow you to generate Leads for either Sales or Email Campaigns. Unbounce supports email marketing and CRM integration.
You can integrate Aweber, Mailchimp, Constant Contact to your landing pages via API or build and deploy HTML forms. Market automation is also supported for Salesforce, Zoho and Infusionsoft.  With such a nifty set of tools, you can set and achieve your marketing goals almost effortlessly.
Related: Email Marketing Battle of the Greats – Mailchimp vs Emma VS Vertical Response
Split Testing
Until you perform a split test on you landing page, you may never know exactly which design works best for you. Unbounce and Leadpages support A/B testing of landing page variations. You can create and deploy multiple versions of landing page and perform split testing to see which one converts best. With such a nifty feature, you will be able to create, test, and optimize your landing page to achieve higher conversions.
Mobile Responsive
Having a mobile-friendly landing page is no longer an option. Mobile search and traffic now accounts for a significant proportion of leads and sales online. Unbounce and Leadpages have responsive templates that displays beautifully across various devices. Templates are customizable giving you the flexibility you need when creating and updating layouts.
Just like Unbounce, Leadpages allows users to create 100% mobile-ready landing pages that renders properly across Android devices, iPhones, and tablets. This ensures that visitors enjoy a consistent browsing experience regardless of the device they're using.
User and Client Management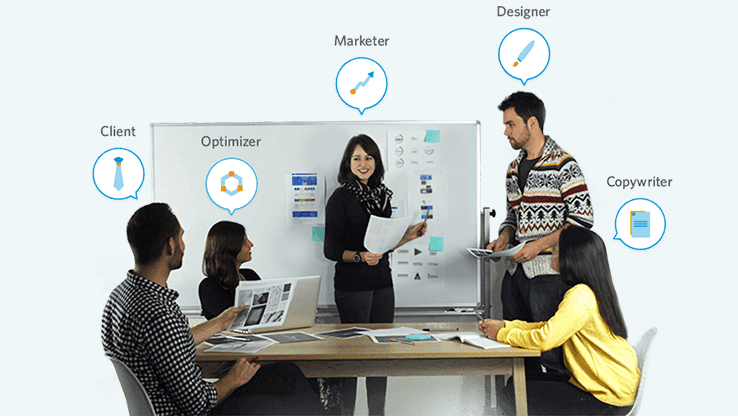 Today's workplace requires synergy in the execution of roles. Both landing page builders support multi-user management. That means you can bring onboard and assign different roles to copywriters, designers, and marketers to work together. Similarly, you can also manage multiple clients and their landing pages from a central place.
Real Time Analytics
Unbounce and Leadpages allow you to use the inbuilt analytics dashboard or integrate Google Analytics to view the performance of landing pages. The real time analytics dashboard shows you where visitors land and how they interact with the landing page.
You can also check unique views, conversions, and bounce rate and determine the effectiveness of your marketing campaign. And using the landing page data, you can fine-tune your landing pages to achieve more conversions
Pricing Plans
Just like everything else, pricing is always a determinant for many people when choosing lading page builders.  Unbounce offers 3 pricing plans; Po 199, pr0 99, and starter. Pro 199 costs $199/month and is ideal for agencies and marketing teams. Po 99 costs $99/month and is best-suited for consultants and small business. The basic starter package goes for $49/month and is ideal for startups and small businesses. All 3 plans have a 30 day trial.
On the other hand, Leadpages offers standard annual, pro annual, and advanced annual. The standard plan goes for $25/month while the pro annual and advanced annual cost 449 and $199 respectively. All 3 plans are paid annually. Unfortunately, none of the plans come with a free trial.
Summary
Unbounce and Leadpages are powerful and versatile landing page builders. Both have salient features, amazing templates, and wonderful functionalities that meet your landing page design needs.  Templates are customizable and feature-rich allowing you to create a highly-converting landing page. Overall, Unbounce is a rich landing page design platform with a set of awesome features that simplifies the process of designing and deploying landing pages.
If you have little or no technical knowledge, Leadpages will give you a great headstart. But if you're looking for a combination of flexibility and power when building landing pages, Unbounce is the best option.
Comments