17 Dec 2014
How To Enable And Disable Safe Mode On Galaxy Note 4
I normal write a lot about Samsung phones safe modes and in this post we are going to discuss on how to enable and disable Safe mode on Samsung Galaxy Note 4 phone.
We know what safe mode is all about and if you don't then let me try and give you a summary of what Safe Mode is for.
Safe Mode is a safe zone where you can easily uninstall buggy apps or applications that are affecting your smartphone without any issues or damage during the process. Sometimes we find out that we can't uninstall some app normally but through safe mode you can without issues.
So I hope you get what it means now? So I will teach you how to enable the safe mode on your Samsung galaxy Note 4  so you can easily access it when you need it and also how to disable safe mode on Samsung Galaxy Note 4 so when you are in safe mode already you can get out.
How To Enable Safe Mode On Samsung Galaxy Note 4
Please kindly follow the step carefully so you can get a good operation and if you don't get it try again.
Step 1
Make sure your Samsung Galaxy Note 4 is turned off.
Step 2
While the phone is off, Press and Hold the Volume Down button while holding the Power button to turn on the device.
Step 3
When you notice the phone is on while holding the buttons, release the power button but continue to press and hold the Volume Down button.
Step 4
When the home screen has finished loading release the Volume Down button.
And you are done.. To know if you are in the safe mode on your device, look at the lower left corner of your Note 4 "Safe Mode" should be written there.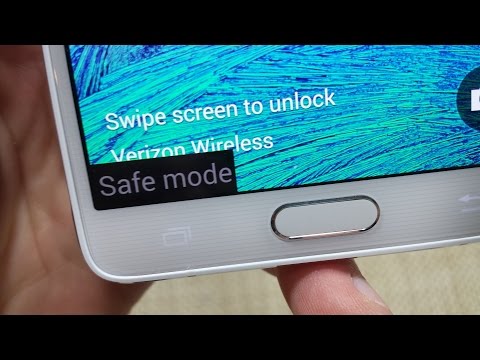 But if you don't find the Safe Mode displayed, try the above steps again.
Read This Also: How To Enable and Disable Safe Mode For Samsung Galaxy S3
How To disable Safe Mode From Samsung Galaxy Note 4
To get out of safe mode, all you have to do is simple. Restart your Note 4 device
To Restart, press the power button until the Power Menu shows up then select Restart
You Need To Know How To Turn On and Off Safe In Samsung Galaxy S5
But if you can't still get out of Safe Mode and you have restated your device many times, try removing your battery for a while and insert it after some minutes. That should work.
In case you have other issues please let me know
Comments