09 Mar 2014
How To Install Flash Player On Android 4.4 Kitkat Devices
Many must have had problems with our android devices especially when it come to playing flash stuffs online on our browsers, how to install flash player on android 4.4 kitkat which is a latest android update available in some devices is what we are going to be solving in this post. Some months back I wrote on how to install flash player on Samsung Galaxy S3 which was on android 4.2 which is jelly bean and it really helped a lot of users to view flash on their browsers.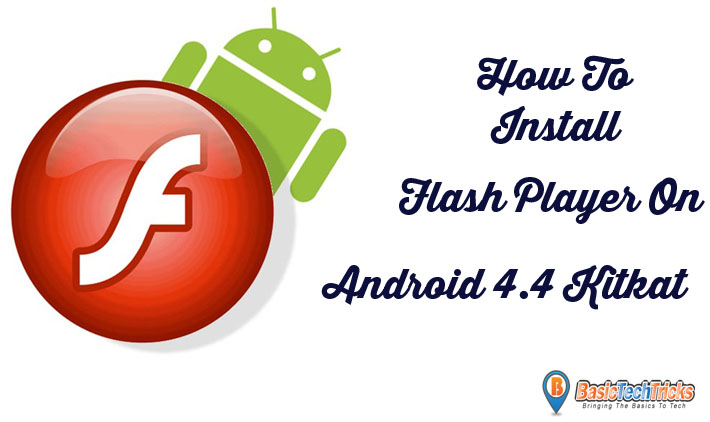 Normally if you can't view flash content on your browser, all it shows is a blank page and as android users we are meant to be able to view anything especially when you are using one of the upgraded android operating system, so we found a way which you can easily view flash contents online without problems and any techy issues.
The method is so great because it can be easily be done by anyone as far you read the procedures below and am very sure you will find the post very useful and successful when you try the method on your Kitkat device either tablet or phone.
A Must Read: Top 10 Must Have Apps For Samsung Galaxy S4
Steps on how to install Flash Player On Android 4.4 Kitkat
please as I usually say in my tutorials, please read the procedures or steps well before you take a particular and BasicTechTricks.com will not be held responsible for anything that happens to your device 🙂 , back to our tutorial as I have said its a very easy process, install flash player on android 4.4 is very easy.
Requirement On How To Install Flash Player On Android 4.4
If you have installed any flash player, Uninstall it
Download Dolphin browser from Play store if you don't already have it.
Now, download a hacked version of flash player
Your android should also have enable to install apps from unknown sources, if you have, please do
Simple Steps Involved In Installing Flash Player On Android 4.4
Once you have installed the Dolphin browser on your device
Then go to the browser settings and find the "web content"
Click on it and you will find flash player
Always turn it on if its off
Done
Also Read: 8 Amazing Best Android Web Browser For Tablets Or Phones
Once you are done performing all these steps mentioned above, you should check a site that has flash contents on the dolphin browser only, and you will see that it works and that the only way for now which you can view flash content on android 4.4 Kitkat devices and also how to install flash player on android 4.4 kitkat for the moment cause am very sure that later new tricks will come out about this. So have fun as you use this method and have fun sharing the content.