26 Feb 2014
One of the challenges windows 8 and 8.1 users face is the creating of ad hoc network in windows 8.1 and also 8 operating system, normally in the earlier windows operating systems are was an option to create ad hoc network which you can create if you go to the Network and Sharing Centre and right under it you will find this option there "Set up a wireless ad hoc" and that all you need to do to have your wireless ad hoc network up and working. But unfortunately Microsoft removes this feature from the new operating system which is the windows 8 and the updated windows 8.1 which all comes with a GUI interface.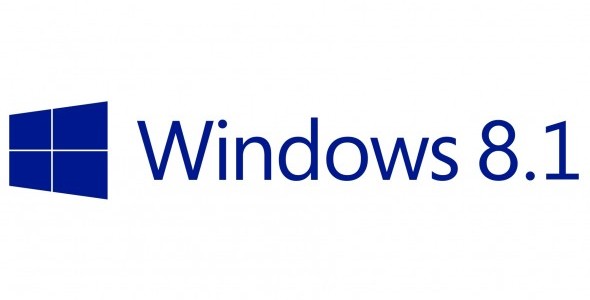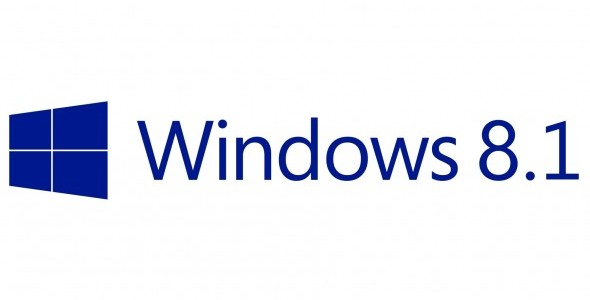 There have been attempts made by users to provide this wireless ad hoc for their computers and laptops as it very important to some users and it has been successful when it comes to that, in windows 8 you can use third party software to enable this feature for you which are Connectify Hotspot and Virtual Router software which helps to create wireless ad hoc for windows 8 users but for windows 8.1 users the process to create this is very techy kind of but any people can do it with the help of this blog posts which is a tutorial on how to create ad hoc for windows 8.1 .
A Must Read: How To Fix Bluetooth Not Working In Windows 8.1
How to Easily Create Wireless Ad Hoc Network in Windows 8.1
Please follow the instructions which are made available in this post and read well before taking action. We are going to be making use of the Command Prompt in windows 8.1 laptop. Follow the steps
Step 1
Open the Command Prompt (CMD) as an administrator on your windows 8.1 system and to do this press "(Press Windows key + X + A)" and the dialog box will pop up, confirm and continue
Step 2
Once you are at the Command Prompt (CMD) interface, type the type codes to find out if your network interface supports hosted network feature.
netsh wlan show drivers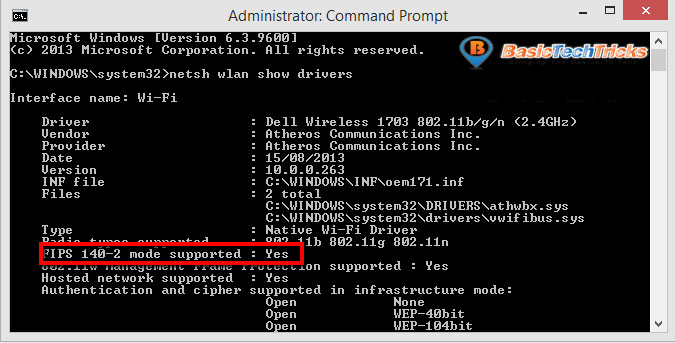 Once it shows yes like mine screenshot, then your network interface support hosted network which is a good sign for us. But if it shows NO then you need to update your wireless network driver and then try again.
Step 3
Now that we have confirmed the hosted networks work on your network interface, we need to configure the hosted network still using the Command Prompt (CMD). Type the following commands
netsh wlan set hostednetwork mode=allow ssid=<your desired network name> key=<your password>
when typing do not include this "<,>" characters in it just like the image below.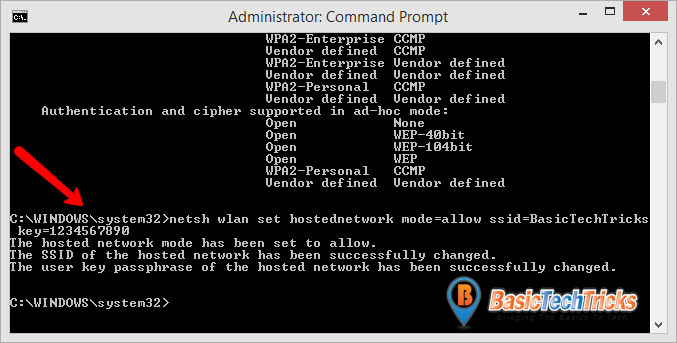 Once you hit enter button, the remaining commands will show down like mine in the screenshot.
Step 4
The next thing we need to do is to start the network and to do this we need to type the following commands below on CMD
netsh wlan start hostednetwork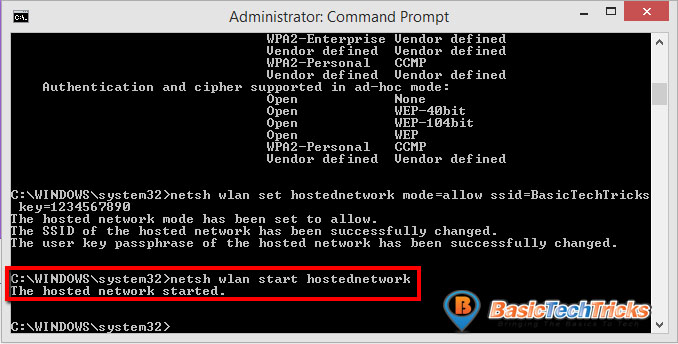 While doing this make sure your wireless is enabled.
Step 5
Now, head straight to your Network and Sharing Centre and from there to Adapters Settings. Go through this Control Panel > Network and Sharing Centre. Click on "Change adapter settings"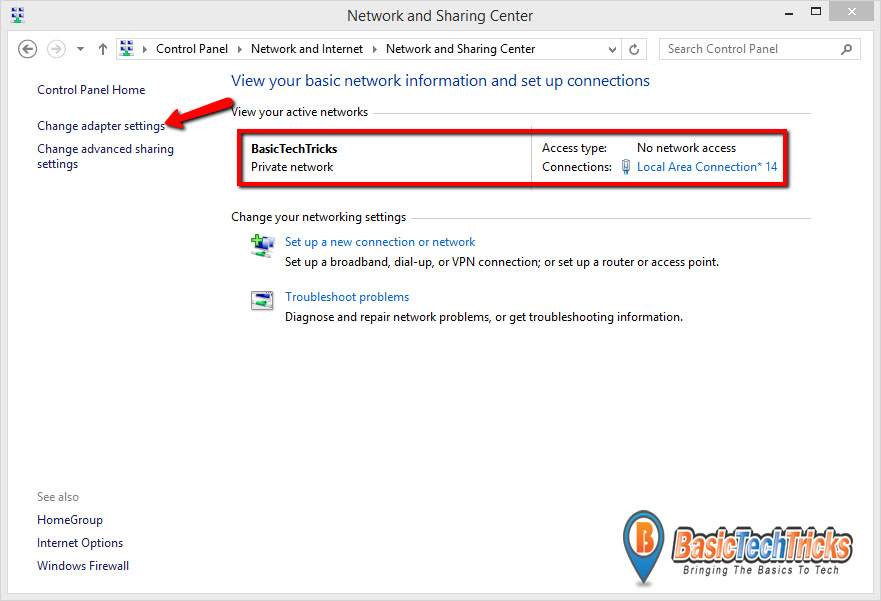 Step 6
Right click on the WiFi adapter and click on properties, when you click on properties then click on sharing tabs and then <check the box Allow other network users to connect through this computer's Internet connection >  and after click OK button
Now you have successfully created ad hoc network on your windows 8.1 and you can connect your various devices to the network and enjoy. I have not tried this method with windows 8 but you can try it if you don't like the software method.
A Must Read: Top 8 Must Have Windows 8 Apps
Finally there is something I notice which is that, the created network is deleted when you disable your wireless on your laptop or computer. So only disable your wireless network when you are done with what you are doing or you will have to create it again from the scratch
About Author
JPG
I have been a blogger for about 12 years now. Recently, I focus specifically on the more technical side of things. I also do a fair amount of freelance writing on big authority sites. All I can say is that I am super glad to be one of the main contributors to this site. I hope you enjoy and share my content, but only if you think it is worthy of it :)
Comments