25 Jan 2014
Recuiting Made Easy Like Shopping
Recruiting has been stress for some companies and organizations, when there a job opening in there office and they put the information out there to the people interested to hear it and since the world is getting to a technology age , some companies simply tell the applicants to send the necessary information to a specific email and the next thing you know is that the get massive applications from interested candidates and this becomes the stress.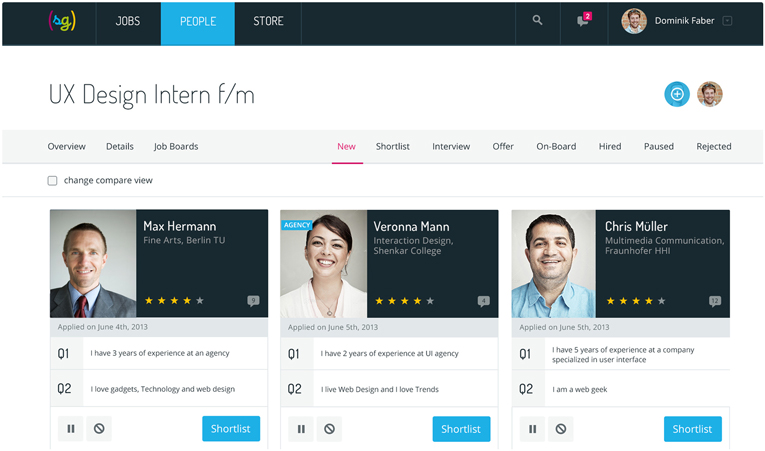 Actually, this is not called the tech age become of email? actually there are software that can made this screening process easy and without stress, yea. Software can do that. This software does actually serve only the owner but also the applicants that are applying for the post will have a very interactive interface when submitting their credentials and applying for the job. All the Owner who is looking for applicants for the job will actually find it easy to find the right applicant as the software will sort you it out.
A Must Read: All You Need To Know About OLX
The software will make screening for applicant like you are shopping for cloths and comparing shoes. These software actually does all this for you, can you see that now that Recruiting has been made easy for business owners?
Now you will be thinking, what recruiting software should I go for? I will recommend one that actually provides and deliver the best when it comes to this aspect recruiting software by softgarden.
Why Softgarden Recruiting Software?
Yes, why Softgarden? you may ask yourself that question but their software are very good, it actually turns recruiting to shopping of applicants where you can easily compare with other applicants and so on.
Here is what Softgarden Recruiting Software Can do
Process
Softwgarden recruiting software can make you never loose an applicant, because the software allows all applicant receive every message that is been sent to them as the software delivers all to them.
Schedule Interview
This software has a very easy system that let you easily set or fix interview with the appropriate applicant like time, date and venue and also other necessary information that may be needed for the interview. the software also emails you the applicant detail before the interview.
Easy Compare
This is a very cool feature that the software has actually allows you compare two or more applicants together and compare their document and also credential and lets you know who is more qualified for the job but you too can do your judgement and pick too.
A Must Read: Best Android News App For Your Android Devices
There are also many features the software has, you can just take time and take a little pip into there site recruiting software by softgarden and see the awesome software they have.
So if you are looking for less stress when recruiting your staffs and workers, you should try one of this as it helps save time and strength.
Comments