09 Nov 2013
How To Verify Your Blogger Blog In Google Webmaster Tools
Having your new blog on Google search results as fast as possible is every newbie or old blogger dream and one of the ways you can do this is to allow Google know your blog. Don't think because you have a blogger blog Google will automatic know about your blog, they will but it will take time.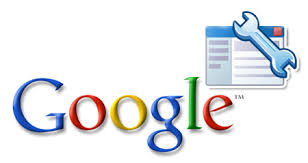 Verifying your blogger blog with Google is really one of the first steps in SEO of your blog you should take as to get your blog to Google search result as fast as possible. As you know Google search engine is the most and well used in the internet followed by other such as Bing, Yahoo, Aol etc.
So how to verify your site on Google webmaster tools process is what am going to be showing you in this post, verifying your blog is very important and should not be left out. all you have to do is follow my steps below.
A Must Read: Importance Of Sitemap And Why Your Websites Need It
Steps To Verify Your Blogger Blog In Google Webmaster Tools
Step 1
Sign in into Google Webmaster Tools  (preferably with the same Gmail you use to open your blogger blog)
Step 2
You will find a red button, click on it. the button looks like the image above.
Step 3
After clicking on it, you will find a box asking you to enter your blogger blog address.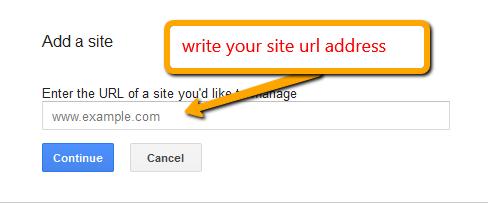 After writing your blogger blog address, click on the continue button.
Step 4
You will be asked to verify your blog ownership, this is to prove that you own the blog before you claim someone else blog. There are two methods that you will be offered during the verification which are "Recommended Methods" and "Alternate Methods".
But you should pick the Alternate Method.
Step 5
The Alternate method involves you inserting a html code into your blogger template, at the head tag to be specific, the code normally look like this
< meta name="google-site-verification" content="zuXppNI6Ov58_sKYPYmclkJQGc3rroRIL7Y4-DzGel4″ />
Step 6
Login to your Blogger dashboard and edit the template to get to the head tag, when you have click on Edit HTML under the Template . insert it under this <head> and before the </head>.
Step 7
Check the Google Webmaster tools and confirm the verification.
A Must Read: How To Change Blogger Template Easily
 Conclusion
Thinking of getting traffic from Google then you need to make your site or blog visible in the search result and one the fastest way to do that is by verifying your site with Google webmaster tools as Google will now be notified with your site. Google webmaster tools has lots of functions that will be important for both new and old bloggers to take their blog forward, so verify your blogger blog in Google webmaster tools
Comments